Annesley to Woodford
CLICK ALL PHOTOS TO ENLARGE


"Sounds of Steam" - On the footplate of a "9F"
(CLICK ON MEDIA PLAYER BELOW)
click here to see 1964 WTT Annesley to Woodford
click here to see 1964 WTT Woodford to Annesley
click here to see 1964 WTT Nottm Vic to Derby Friargate
Click on the photo's to view actual size
The Annesley to Woodford freight service epitomised the Great Central's vision of a North East - South West through route. Back in the 1930's Annesley men were lodging at Woodford, working with a variety of ex-GC engines, the O4 2-8-0's (known by all LNER men as "Tinies") taking the lion's share of the workings.
In 1947 the Annesley-Woodford service was completely recast by the Eastern Region. Worked by Annesley men, the freights were both strictly pathed and timed, with a fresh engine waiting for the down working at Woodford, and relief at Bulwell Common for the engine crew. These were initially worked by Robinson "O4" 2-8-0's and Riddles "Austerity" 2-8-0's, but were superseded by Thompson's excellent rebuilds of the "tinies", the class "O1" 2-8-0's.
Annesley's "O1" 2-8-0 no.63780 heads a "runner" comprised of bogie bolsters near Rugby on 3rd November 1956
Richard Hardy, shedmaster at Woodford from 1949 - 1952 writes:
"The Annesley - Woodford freight service was going magnificently and, although the Thompson "O1" was its backbone, those excellent engines were effectively supported by the "O4's". Without a shadow of doubt, the Annesley "Runners" were the fastest out-and-home loose coupled freight service in the country. Late starts and loss of time by either traffic or engine was viewed very seriously, and the successful use of the "O4's" on such high-speed work disposes of the myth that they could not "run".
I once rode with Annesley driver Reuben Taylor (below) from Rugby to Woodford and our average speed start-to-stop, and including the long climb at 1 in 176 to Catesby tunnel was about 28 mph, with a maximum of 44 mph. The engine was worked (as always on an "O4") a turn and a half up from full gear and with the regulator in the first port until we were about to strike the bank - and then Reuben lifted the regulator just into the second valve.
Boiler pressure remained constant at 175 psi from start to finish, firing was no effort, with a gently sloping fire. About eight shovelsful were put in at each firing, through the GC trapdoor which remained open throughout until running the fire down for the relief crew (who had the job of disposal) at Woodford."
The "9F" revolution
During 1956 and 1957 no less than thirty one of the new "9F" 2-10-0's were sent to Annesley to take over the "runners" (although the only brand-new loco's we received were 92095 and 92096 in February and April of 1957 respectively).
The timetable was completely recast to end the relieving of men at Bulwell. Instructions were given to the effect that if an engine was late off shed, the job was cancelled, though in practice this rarely happened. No wonder we called them "Runners" they were express freights in everything but the headlamp code!
The speed was calculated to average 30 mph for loaded southbound trains, and 33 mph with the northbound empty workings, however we would hustle through Nottingham and Leicester in the thirties, storm the banks at fifty (except Ashby and the climb to Catesby tunnel southbound) and hit the long dips such as Shawell, Gotham and Whetstone well into the sixties.
.
A trip to Woodford
(Another Annesley fireman, Barry Towler, reminisces….)

"Chris's website has brought back memories that I thought were long forgotten.Stan Cooke was my regular Driver for about the last 3 years of Annesley's life. Stan lived at Bulwell, he was a NUR man and had a son named Graham who was also a fireman at Annesley , and that's about all I can tell you about his personal life!!.
One of our Woodford jobs was to sign on at 11.55 for the 12.25 "Runner". After signing on we left the 'loco and went to the outlet board, where I rang Annesley no.4 box. "92073 for the 12.25 Woodford" I told Bill Shaw the "bobby". Off came the board, we backed over the dolly, down the through road to Annesley South and back into the up sidings. After the shunter had coupled up, and our Guard, Bill Gowing had given us our loading, we were off as quick as possible! The downhill run to Nottingham Victoria gave me chance to get my fire in good order (speeds to the "Vic" were in the region of 40 to 45mph) Emerging from the tunnel at Nottm Vic north I would be hanging out of the cab yelling to the signalman"(tell 'em to give us the road bobby". Our aim was to keep in front of the York - Bournemouth express all the way to Woodford
.After passing Arkwright Street station and crossing the Trent we got into our rhythm and increased speed. Ruddington and Gotham flashed by at 50mph plus. After Barnston tunnel (just south of East Leake),we coasted down to Loughboro giving me a breather and a well earned fag .We were going that fast if you blinked twice you missed Loughborough ha ha then on through the Leics countryside, over Swithland Resevoir, through Belgrave and Birstall, then it was shut off, and coast down to Leicester Central. We were lucky – all the boards were "off" through the station. Facing us was Ashby bank – seven miles at an unrelenting 1 in 176! Passing Whetstone Stan was anxiously looking for Ashby's distant! If it was yellow it meant we were going in the loop to wait for the Bournemouth to pass .It was green (not that I had time to notice all this, I was too busy trying to keep steam up!). Topping the bank we eased up a bit allowing me and 92073 to get our breath back. From then on it was a relatively easy run to Braunston & Willoughby, averaging speeds from 40 to 50 mph. Over the "birdcage" at Rugby (not forgetting to whistle a******e to the LM men underneath) and on to the final six miles at 1 in 176 to Charwelton hoping we wouldn't slip going through Catesby tunnel. (3,000 yards long, and so straight you could see a pinprick of light at the other end, visibility permitting. After a "little dip" on the troughs we got the left-hand board at Woodford no.4 and into the up sidings at Woodford. Before we had come to a stop the mainline signals were of and the "Bournemouth" came flying through as he passed us he whistled a******e to let us know we had checked him at Charwelton.
A quick turnaround at Woodford and then with 55 empties on the return trip began (I think it was 55 not sure).If our guard had got a rough riding guards brake he used to "sprag" himself in. Now was the time to see what the mighty 9F could really do, if we got the road we would fly along .45 50 55mph and I believe topping 60mph. coming down Ashby bank, if the outer distant was against us (you had maybe 2 or 3 seconds looking through the trees ) GOD HELP US! Steam brake on, tender brake on, steam sanders on reverse gea'r hang on the whistle and pray that you had woke up the guard so he could use his brake! (This was a rare occurrence but it did happen at times – the signal, not the guard!) Then forging on northbound, slowing down through Leicester Central, picking up speed again flying through Loughborough up the bank by the Brush factory then through the tunnel and "feet up, fag on" for the long run down to Queens Walk and then through the "Vic". After another four uphill miles at 1 in 130 we reached Bulwell Common. We then went up the G.N. Leen Valley line to Newstead, where we were relieved.
We then walked over to the 'loco to sign off, then a brisk walk up to Newstead Village, two quick pints in "The Institute", and catch the 19.00 "dido bus" home…….Happy Days!
Most of my working life since then has been spent driving HGVs around Great Briton and Europe. I have had many happy (and not so happy!) experiences and have long since retired but the one experience I would wish for is for myself and Stan to be heading south on a fully fitted freight with a "Green Arrow", a full head of steam and the" white feather" flying…………… ….God bless All Annesley Men…………. except George Clack (don't really mean it George, R.I.P )"

Annesley to Woodford point-to-point timings: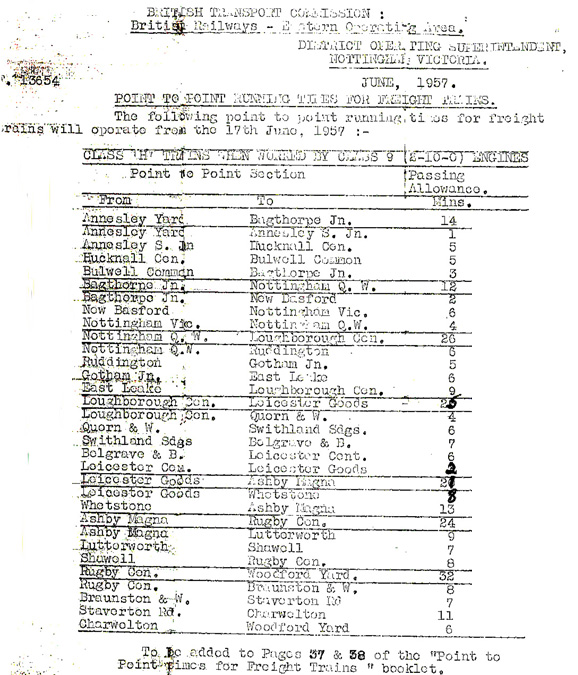 Below is a log taken from "Trains Illustrated" of an up "runner" in 1959 with 92043 with driver Bert Elnor and fireman Harold Storer................
............and here she is passing Rushcliffe Halt on 16th July 1964 with the 14.30 Annesley - Woodford.
Even speedier were the fully fitted express freights from Dringhouses (York) to Bristol, Banbury and Woodford. These were usually relieved at Annesley South platform, but occasionaly they were routed through the goods line and relieved at no.4 box. These trains were normally headed by a York "Green Arrow", "B1" or "B16", and returning in the afternoon as a normal "Class F" runner. After servicing at Woodford, they often returned home on the 19.55 York, or 20.30 Ardsley. Invariably though, one would return southbound with the 19.40 Banbury!
We also used (mainly) York and Ardsley engines to work (among others) the 13.45, 16.25 and 19.15 "runners" to Woodford, as these returned with fully-fitted freights to the north-east, again being relieved at Annesley South platform. One of my fondest memories is seeing fireman Barry Harley,complete with Mohican haircut, leaning out of the cab of an Ardsley "K3" as it left Annesley yard with the 16.25!
The "Crosti's"
92027 (above) arrived at Annesley on Tuesday 21st April 1964. After an "E" exam, she was put to work on the 03.30 Woodford on Friday 24th. On her return she was failed, and after being under repair for 3 days was sent out on the 15.45 Woodford on Wednesday 29th. After working the 08.25 Woodford on Thursday 30th, she was back under repair for another 4 days! Enough was enough - the next week saw her on various menial jobs, the 08.48 Rotherwood; 09.48 Leicester; 23.30 Sheffield; 08.37 Pleasley; 16.36 Stanton; 04.10 Burton and 09.30 Colliery Pilot, to name a few!
92025 was transferred to Annesley on 17th April 1964. A day later, she is seen at Bulwell Common North Junction (below) with the 10.55 Annesley - Woodford. She was used only 10 more times on the "runners". Friday 1st May saw her on the 08.48 Rotherwood and 23.40 Stanton Ironworks, and on 2nd May she was on the 13.07 Hotchley Hill job!
Although our own examples weren't considered up to the job, "foreign" ex-Crosti boilered "9F's" were a different matter. In the month of April 1964, Kettering (15B) loco's 92021 (twice), 92023, (4 times) and 92024 (3 times) all worked "runners"
Below, we see 92021 crossing Swithland viaduct on Saturday 18th with the 10.00 Annesley - Woodford.
The "9F's" did not have a complete monopoly on the (unfitted) "runners". Occasionally an ex-LM "8F" would be substituted (with a reduced load). I only had the pleasure (!)once, with driver Cis Bailey - the overtime king! Cis took the opportunity to stop at Leicester for water, thereby losing our path, and insisted on the fire being cleaned at Woodford. What should have been a seven hour day turned into eleven hours!
Annesley must have been short of "9F's" on 26th October 1963. Here we see "8F" 48166 (above) climbing Ashby bank with an up "runner", while (below) on the same date we see 48700 also climbing the 1 in 176 en route to Woodford.